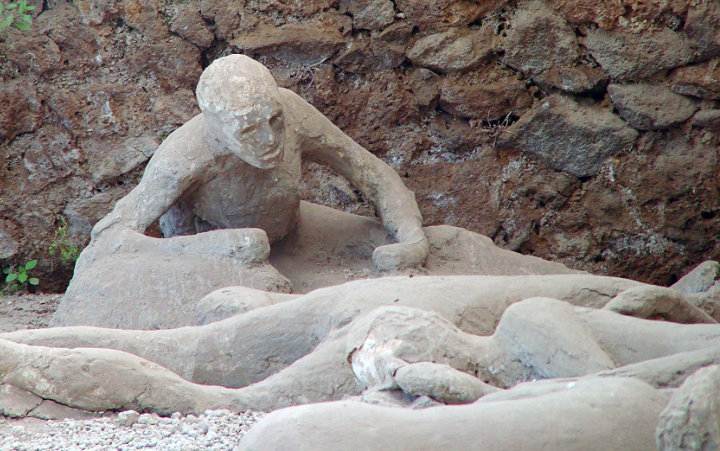 Visitors are informed that from 6th August 2021 the access to Pompeii Archaeological Park will be allowed only upon presentation of their Green Pass for Covid 19 or negative test (within the last 48 hours).
The eruption of Mt. Vesuvius in 79 C.E. was a paradoxical thing. It was truly cataclysmic – it wiped out the entire populations of nearby towns – but it also yielded to history one of the most extensive and intact ruins of an ancient city. That settlement was Pompeii. The spectacular ruins are one of Italy's most visited sites.
When Vesuvius erupted with the force of 100,000 atom bombs, life in Pompeii perished in an instant. Ironically, the blanket of superheated ash combined with the lack of moisture to preserve much of the city for thousands of years. So what you see today lends an extraordinary window into life in Roman times.
Tickets for Pompeii: Reserved Entrance
Secure your ticket in advance for one of the world's iconic archaeological sites
Additional information and buy ticket >>
Tickets for Pompeii + Audio Guide
Wander around the lost city of Pompeii with an optional engrossing audio guide.
Additional information and buy ticket >>
Tickets for Pompeii: Guided Tour
Explore the ancient archeological wonder of Pompeii with a professional guide.
Additional information and buy ticket >>
Tickets for Pompeii & Herculaneum: Skip The Line + Guided Tour
See a city untouched by time and enjoy a guided tour from an archaeologist.
Additional information and buy ticket >>
Tickets for Pompeii: Half-Day Trip from Naples
Explore the Roman Empire's lost city on a Naples to Pompeii day trip.
Additional information and buy ticket >>
Tickets for Pompeii + Audio Guide, Parking and some modern comforts
Get a rain jacket should you require it, opt for the parking space if you'll plan to come by car, and sip a free orange juice after you've finished exploring.
Additional information and buy ticket >>
Tickets for Pompeii: Skip The Line + Bus Roundtrip from Rome
From Rome to Pompeii: a modern comfort bus for a trip into the past.
Additional information and buy ticket >>